ShareEcard Biz Features
SHARING
Allows for easy contact-free sharing of Digital Business Cards.
Recipients can view your digital business card without needing the ShareEcard Biz App, whether it's during in-person meetings or virtual conferences on platforms such as Zoom and Teams. Adopt a more eco-friendly approach with ShareEcard Biz App.
SCANNING
Transform paper business cards into digital contacts for seamless collaboration.
Effortlessly scan and digitize paper business cards from meetings, conferences, and events using advanced Optical Character Recognition (OCR) technologies in our App. Contacts are automatically extracted and organized on your smartphone, making them easily accessible and shareable.
MANAGING
Efficiently manage all scanned paper business cards on your smartphone.
Easily write notes, add tags, and quickly search through your digital contacts, putting all the information at your fingertips anytime, anywhere. Streamline your contact management and stay organized with ShareEcard Biz Business App.
Contact Management System (CMS)
ShareEcard Biz CMS centralizes all received Business Cards so that all
employee can access and share this data.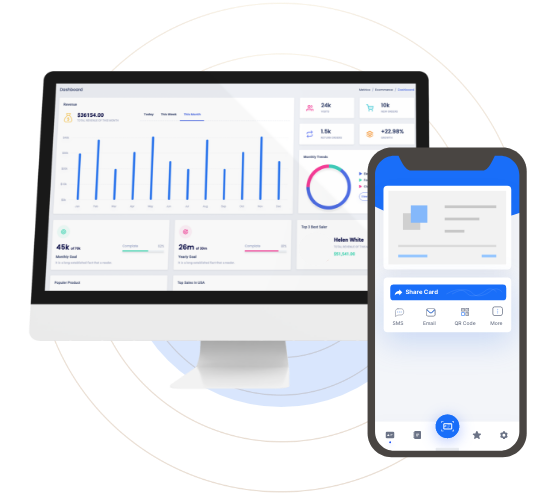 Company CRM or ShareEcard Biz CMS centralizes all received paper Business Cards that have been Scanned by employees using the ShareEcard Biz App.
All employees can access and share this data for easy collaboration with colleagues to optimize all sales opportunities.
Know what sort of contacts the employees are making in the field, from meetings, events and conferences on customer contacts being made by employees to measure the return on investment.
Pricing for Enterprises
Cost Savings of over 50% compared
with printed business cards.

Nearly 90% of paper business cards are thrown away or lost.
Cost Reductions and better Return on Investment
For further details, contact us. We offer as part of the standard
service:
Corporate Branded DIGITAL Business Cards
Customized Employee Online Ordering System
Unlimited Business Card Scans
Unlimited Scanned Cards Storage
ShareEcard Biz CMS - Admin Portal
Free Support - 24/7
Option for CRM Integration
Reporting and Analytics
Working With
We are proud to work along some of the greatest brand in the world.


Testimonials
What you customers have to say.
"Lorem ipsum dolor sit amet, consetetur sadipscing elitr, sed diam nonumy eirmod tempor invidunt ut labore et dolore magna aliquyam erat, sed diam voluptua. At vero eos et accusam et justo duo dolores et ea rebum. Stet clita kasd gubergren, no sea takimata sanctus." est Lorem ipsum dolor sit amet. Lorem ipsum dolor sit amet, consetetur sadipscing elitr, sed diam
"Lorem ipsum dolor sit amet, consetetur sadipscing elitr, sed diam nonumy eirmod tempor invidunt ut labore et dolore magna aliquyam erat, sed diam voluptua. At vero eos et accusam et justo duo dolores et ea rebum. Stet clita kasd gubergren, no sea takimata sanctus." est Lorem ipsum dolor sit amet. Lorem ipsum dolor sit amet, consetetur sadipscing elitr, sed diam
Jotfan Jenkins
CEO Humana
"Lorem ipsum dolor sit amet, consetetur sadipscing elitr, sed diam nonumy eirmod tempor invidunt ut labore et dolore magna aliquyam erat, sed diam voluptua. At vero eos et accusam et justo duo dolores et ea rebum. Stet clita kasd gubergren, no sea takimata sanctus." est Lorem ipsum dolor sit amet. Lorem ipsum dolor sit amet, consetetur sadipscing elitr, sed diam
Aurelia Amanda
CEO Humana
"Lorem ipsum dolor sit amet, consetetur sadipscing elitr, sed diam nonumy eirmod tempor invidunt ut labore et dolore magna aliquyam erat, sed diam voluptua. At vero eos et accusam et justo duo dolores et ea rebum. Stet clita kasd gubergren, no sea takimata sanctus." est Lorem ipsum dolor sit amet. Lorem ipsum dolor sit amet, consetetur sadipscing elitr, sed diam