Emergence of Digital Business Cards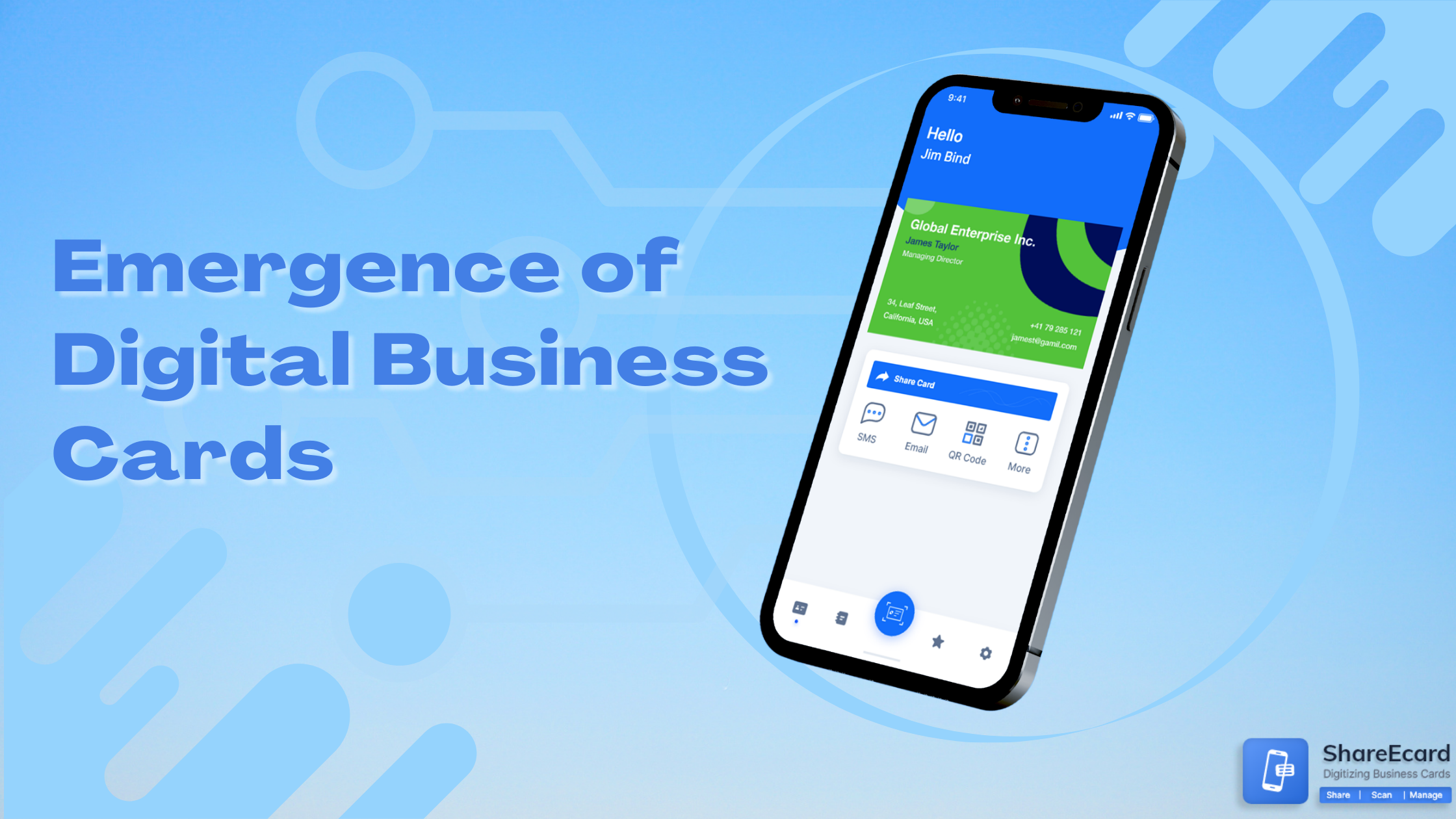 Why Electronic Business Cards Are a Better Choice than Paper Cards

As the businesses are going digital, the debate between the traditional paper cards and Electronic business cards is also on the rise and it won't be wrong to say that they both have some strong points on their sides. Though both of the card types do the same purpose the method is a bit different or much different. Compare both in a current business environment and the digital visiting cards but digital business cards have to offer many advantages over the traditional paper business cards and in this article, we will thoroughly discuss why digital business cards have more advantages than paper cards.

The Rise of Digital Business Cards

Because of the covid-19 pandemic, it isn't just our personal lives that have been affected but the business environment have been changed quite a lot, the traditional paper business cards will heavily be replaced by the Virtual business cards and they will be produced heavily through the digital visiting card maker applications. After all, we all have seen how the traditional handshake has been replaced by the other gesture that doesn't involve direct touching. And this shouldn't come as a surprise that the paper cards will be replaced by digital business cards as well. But this isn't the single reason behind ditching the traditional paper contact cards.

They Cannot Be Carried Around Easily

Just a general question that how many paper cards do you carries in your wallet or bag? You know what is being discussed here and you do know how hassle it can be to carry them when they are in bulk. They require a lot of space in the wallet or bags. Not only just that, but they will also need a lot of time to be sorted when you need one. Every time when you will get paper cards from someone, it would be overwhelming to see the number of paper cards already in your bag that needs to be sorted out that you often forget.

The Design and Printing Is Costly

When it comes to having paper business cards then the cost of printing and designing will be huge. Though you can select a basic design that will cost huge when it comes to printing and if you want to customize the design then you will have to repay the designer as well. Compare this to the best business card app from the ShareEcard that will charge you less for each template with the information you want.

They Will Be Thrown Away

You just have created a top-of-the-line visiting card and printed it but what is next; the person who got it will save the information and then throw it away. We all have done it already, isn't it? Most of the cards will be thrown out by the recovery which doesn't only raise the question about the paper card benefits but is also bad for the environment as well as this is a pure waste of resources.

Why Digital Visiting Cards?

For several reasons, having digital business cards is way more beneficial than the traditional approach of visiting cards. Here is why they are better:

Easy To Create Best Business Card Platform

Unlike paper cards, it is much easier to create digital cards with the equally user-friendly best business card from the platform like ShareEcard. The ShareEcard App allows you to Share and Scan. This means that you can access it anywhere and anytime and even if you don't have it right now, just download the application and create it without any problem. You will have virtually unlimited copies to be shared anytime you want.

Easy to Share

We have witnessed the remote and online working environment where zoom and Skype meetings with the clients, customers, and colleague was a norm, in near future a hybrid working culture would be a norm and so instead of physical paper card, the digital business cards would be a great option in such environment. They can easily be shared through QR code, SMS or Email. The possibilities are limitless with the digital cards

Making a Statement

When it comes to sharing the online digital visiting card then you aren't just sharing the business or personal details but you are also making a statement where you are clearly showing to the world that you are up to date and you are aware of the latest trends and this is what makes the business stand out from the crowd.

Contactless Sharing

Because of the COVID-19, healthcare professionals are encouraging people to adopt behaviors with limited physical contact. This one factor is the one single reason why the creating digital business card online is being encouraged massively and is being preferred by a huge number of users.

Simple Contact Management by Scanning received paper cards.

This is especially a greater advantage to those who have to visit several corporate events and trade shows every year as they can easily maintain a database of digital business cards instead of carrying around a large number of paper business cards. All you need is when you are offered a business card then you just have to take out your phone and by using the best business card scanner apps scan it using an app like ShareEcard, which will automatically read and save the contact information reads.

Environment Friendly

How can we not add this factor as paper cards are made through paper and this requires cutting a huge number of trees every year and the worst part about this is that those cards are thrown away once the information is saved? This is where virtual business cards are obviously important and provide benefits as they are good for the environment. They just require the best business card app, your time and within no time, you can create your digital business cards' that too without costing huge because these applications don't cost much but the benefits are definitely huge.